French & Spanish for Children
Free online French and Spanish for young people aged 7 – 14.
Songs and Activities for children under 7.
Mission:
Accessible French and Spanish Listening and Oral Practice:
– Beginner and Intermediate Language Practice in engaging visual contexts.
– French and Spanish stories, grammar, topics, activities and vocabulary, with subtitled video clips for students to join in with.

The resources are for independent practice and revision, use in class, creative ideas, and homework (flipped learning).
TESTIMONIALS:
– Member of the UK Department for Education Expert Committee on Language, and former Ofsted Inspector, John Bald, states:
"A Green Mouse is an inspiring, free resource that gives lots of interesting, free practice to everyone wishing to learn Spanish and French"
Read the comments below and click here to visit:
A Green Mouse Youtube Channel
–  "Really excellent visuals and organization of content.  I'm an adult learner but I still really appreciate your videos.  They make learning fun and easy.  Great job!"  (youtube)
–  "Perfect"  (youtube)
–  "Excellent travail – J'utilise vos vidéos avec succès auprès d'étudiants adultes analphabètes ou de niveau préalable en français langue seconde ."  (youtube)
A Green Mouse became a Content Partner on TES in September 2012, and was mentioned in their February 2013 Magazine: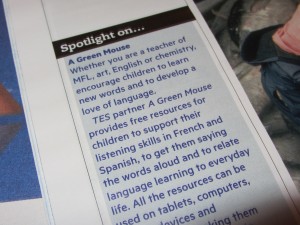 Access to all Resources:
French for Children
Spanish for Children

Tasters in SPANISH:
Latest Addition:  The Future with IR
The video clip has been embedded here as an example, but click on the green link to see the clip alongside words in print and further support: IR + a + infinitive – Future in Spanish

1.  Introduction to Food in Spanish:  Breakfast, lunch, tea …
Click  El Desayuno, El Almuerzo, La Merienda, La Cena   to see the video in context with vocabulary and follow-up questions. Everything is online and free.

2.  Meet Billy in Spanish:  Find out about his family, where he lives, his interests and his friends.
Click  ¡Hola!  Me llamo Billy   to read the words online and answer free comprehension questions.

Tasters in FRENCH:

1. A friendly 'story' about an old dog who compares himself to a younger, faster one.  Click Comparisons in French to read through the grammar next to the video clip and answer free online questions.

2. French Food and Drink Practice:
Eating out, in a restaurant, in the open air, takeaways, and doing chores at home.
Click Going to a café in French for a second video clip with each phrase repeated twice, a video transcript, and online comprehension questions.
3.  Meet Billy in French!  Find out about his family, where he lives, his interests and his friends.  Click Je m'appelle Billy for comprehension questions and the video transcript:

More examples of the range of resources:
Easy:
Spanish:  Ser and Estar for Beginners
French:    Avoir Practice: J'ai
More Advanced:
Spanish:  Spanish Listening Practice: Las Fallas
French:    Reflexive Verbs in French
– – –