French & Spanish for Children
FREE French and Spanish  Listening and Oral Practice:
Learn French
Learn Spanish
Accessible beginner and intermediate language resources for use in class, homework (flipped learning), or for independent practice and revision:  French and Spanish stories, grammar, topics, activities and vocabulary.
ALL photographs, images, recordings and video are protected by copyright, the work and property of A Green Mouse.
TESTIMONIALS:
Member of the UK Department for Education Expert Committee on Language, and former Ofsted Inspector, John Bald, states:
"A Green Mouse is an inspiring, free resource that gives lots of interesting, free practice to everyone wishing to learn Spanish and French"
A Green Mouse shares resources on the Times Educational Supplement, a Content Partner since 2012, and was given a mention in the February 2013 issue of their magazine: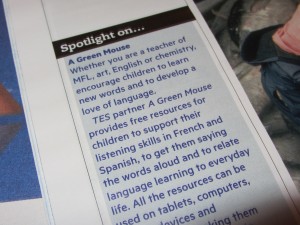 Examples of reviews:
Spanish Vowel Sounds
Parts of the body in French
Ser and Estar
Describe yourself in French
Vouloir, Pouvoir, Devoir

Taster in SPANISH:
Introduction to Food in Spanish:  Breakfast, lunch, tea …
Click  El Desayuno, El Almuerzo, La Merienda, La Cena   to see the video in context with vocabulary and follow-up questions.
Taster in FRENCH:
French Food and Drink Practice:  Click Going to a café in French for a second video clip with each phrase repeated twice, a video transcript, and online comprehension questions.
Read the comments below and click here to visit:
A Green Mouse Youtube Channel
–  "Really excellent visuals and organization of content.  I'm an adult learner but I still really appreciate your videos.  They make learning fun and easy.  Great job!"  (youtube)
–  "Perfect"  (youtube)
–  "Excellent travail – J'utilise vos vidéos avec succès auprès d'étudiants adultes analphabètes ou de niveau préalable en français langue seconde ."  (youtube)
– – –