Camembert to build the Eiffel Tower?
Posted on 28 January 2014
---
KS2 French Activity + listening/speaking practice:
Questions in French and the opportunity to build an Eiffel Tower out of something authentically French ..!
Buy a box of camembert, the most well-known of all French cheeses except Brie perhaps!  You will need the empty box for this resource!
Don't just buy it, taste it – with some baguette!  It has a strong smell, especially when it is very ripe, but it is delicious!  Camembert comes from Normandy.  Where is that in France?  Look it up!  It's just across the English Channel.
Here is a picture of the Eiffel Tower: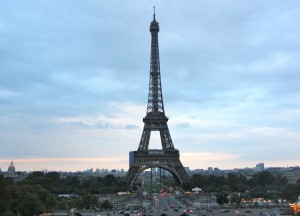 Make a model of the Eiffel Tower using a piece of cardboard as the base, lollipop sticks, toothpicks, glue, an elastic band, and your empty box of camembert.
Is there an obvious place to put the box?  Where would you put it?
Follow the questions on this video in French for beginners and make your own model:
Practise KS2 French Questions:

Note: Have sticky tape to hand if things start to go wrong – Very helpful if you are short of time!
Tags: French activity for kids, French for kids, KS2 French resource, KS2 questions in French