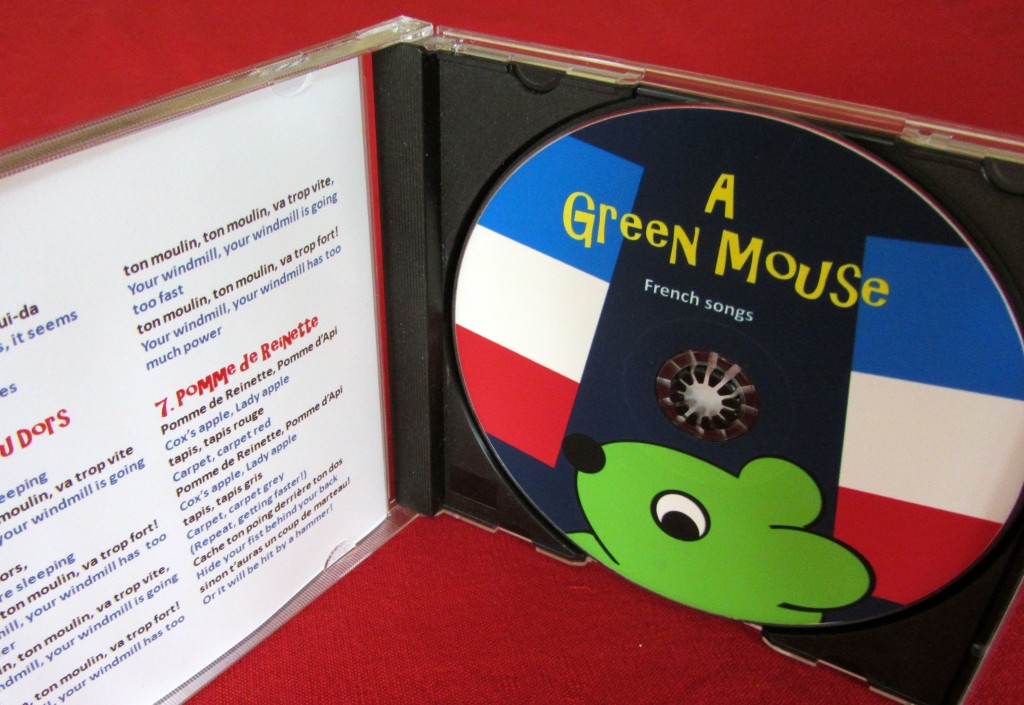 French Songs for Kids
Seven French children's songs and lullabies, with translations, for children to enjoy listening and singing along to French early in life.  Some of the songs have actions to join in with which are explained on spoken word translation tracks.
French songs and nursery rhymes which provide total immersion in French.  Listen to the songs on their own, or start at track No: 8 to hear useful English translations & a description of any accompanying actions –  Great for a music group, the car or practice at home.
There is lots of repetition, the melodies help the words to sink in, and before long children should be singing along without even realising:
itunes: French Songs for Kids: A Green Mouse

Listen FREE to one of the songs!
PROMENONS-NOUS DANS LES BOIS

A song about clothes in French!

Here is the Music Player. You need to installl flash player to show this cool thing!

itunes: French Songs for Kids: A Green Mouse
- – - – - – - – -
A Green Mouse is dedicated to helping students to develop their listening and speaking skills …
FREE online French for kids:
FRENCH FOR CHILDREN
FREE online Spanish for kids:
SPANISH FOR CHILDREN
Youtube Channel:  A Green Mouse

Examples of A Green Mouse French video clips: